Welcome back to St. John Catholic School!
My name is Alexandra Iwaszewicz and I have served the Archdiocese of San Francisco since January 2013 at St. John School. I began as a long term substitute in 2nd grade and then moved to 4th grade. In 2018, I became an Assistant Principal and then was named the Interim Principal in February 2020.
I earned my Bachelor of Arts, multiple-subject credential, and Master's degree from St. Mary's College of California. My teaching philosophy and outlook on education is strongly rooted in the Lassalian and Ursuline principles due to my education at St. Mary's and subsequent work at St. John School.
My mission is aligned with the mission of St. John School. It is to prepare each student for a rapidly changing world by empowering them to become individuals of integrity, critical thinkers, and courageous leaders for the good of all. I am very grateful for the opportunity to lead the St. John School community as the Principal for the 2020-2021 school year.
To help inform the St. John community and communicate important news, Ms. I. provides regular updates for parents, guardians and students.
November's Principal Update
It's been a busy month and there is so much to be thankful for. With the help of our community, St. John School successfully reopened for in-person learning. We now have students from TK to eighth grade on campus. Our school has had zero positive COVID-19 cases among the staff and students on campus. That being said, cases are rising in the Bay Area. Please inform the school immediately if your child tests positive or is a close contact. This will ensure timely contact tracing. Read more…
Ms. I.'s September, 2020 Principal Update.
Ms. I.'s August, 2020 Principal Update.
2019-2020 Newsletters From Ms. I.
October 13, 2019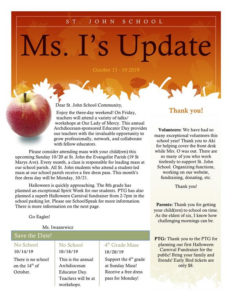 October 6, 2019